News & Articles
Preparing for Retirement with the Five Essential Questions You Need to Ask
Preparing for Retirement with the Five Essential Questions You Need to Ask
05/06/2018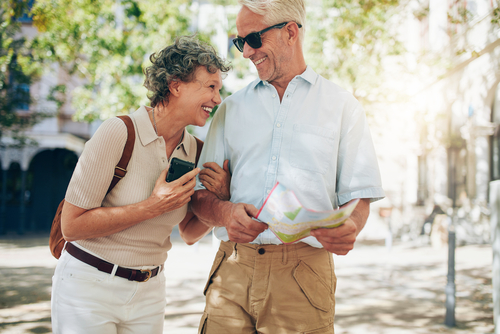 Whether you're aged 50 or older and retirement is just around the corner or you're a 30-something in the earliest stage of the retirement cycle, it's always important to be prepared. Managing the expectations of both yourself and your partner will lead to a more fulfilled retirement lifestyle and avoid any undue financial pressure. Here are the key questions you need to consider before retirement comes around…
Where do you want to live?
This may depend on the following factors: whether you have family that live close by including children and grandchildren, whether you wish to retire somewhere warm and sunny, and the size of your retirement fund. You may want to make a move from the city to the countryside, downsize your home or move to another country. It all depends on your goals and what you wish to achieve during these years.
What's on your bucket list?
You've worked hard for many years to be able to enjoy your retirement, so take the time to consider your options and work out what will really satisfy you. Don't be taken in by the dream of long days on the beach in a sunny, warm climate – you need to think about the reality of any retirement situation. Many people find it handy to make a list of their priorities and take it from there or make a list of their dream and identify any pros and cons. Remember, if there's something you've always dreamed of doing or somewhere you've always dreamed of visiting, now may be the time to make it a reality.
When do you want to retire?
When it comes to wanting to retire and if the money is there, then this comes down to personal choice. Many people prefer to continue working for many years past the "official" retirement age as they gain great satisfaction from their job and enjoy all that comes with it such as a day-to-day structure, a sense of self-worth and the company of colleagues. Others will look forward to leaving their job at the first available opportunity, content and ready to leave that part of their life behind and take a new focus. There's no right answer, it's about what works best for you. However, this will, of course, depend on your financial situation…
When will you be financially able to retire?
Depending on your financial position and your retirement goals, the answers to when you want to retire and when you will be financially able may align or they may be poles apart. As with all parts of retirement planning, the earlier you identify the goals you want to achieve, the better opportunity you have of taking the retirement that you dream of and enjoying a healthy standard of living to meet your expectations. Working out your financial needs during retirement depends on factors including where you will live, the standard of living you would like and how often/where you would like to travel.
While many people work out their retirement budget or when they finish work based on life expectancy, this is a fairly shaky factor on which to make any decisions. Research published by the Institute of Fiscal Studies and reported by Money Marketing says that individuals in their late 70s and 80s overestimate their chances of surviving to ages 90, 95 and above, on average. This demographic is typically reluctant to spend their remaining wealth near the end of life but those who underestimate their chances of surviving through their 50s, 60s and 70s may save less and spend more than is advisable. It's very much guesswork that also draws on the law of averages.
Where will the money come from?
Your financial situation during retirement will depend on income from a number of key channels including the State Pension, private pension, any savings and investments that you have, and your partner's financial situation. You will need to consider budgeting for items that have previously not been on your radar including medical expenses and care. If you have private health insurance in place, then this will free up more of your retirement fund, but you still need to take these potential situations into account and consider any probable associated costs.
The Importance of Planning Ahead
Preparing for retirement is a key part of financial planning to ensure that you are in the best position possible to enjoy happy, rewarding and financially comfortable post-retirement years. It's also a good way to bring you and your partner together and create a plan that satisfies both of your ambitions whilst making sure that the structures you have in place are sustainable in the long-term.
Our financial planners at Vintage Wealth Management will offer expert advice on the best ways to prepare for your retirement. We will offer key insights into how to make the most of your money with both short-term strategies and long-term growth, including ways that you might be able to boost your pension and maximise your savings and investments. Our strategic advice will also cover how to clear up any outstanding debts to ensure that all your funds go towards sustaining your retirement lifestyle.
Once you've set up a healthy retirement plan, it's essential to keep on top of it. According to Standard Life, 74% of under 45s with pensions have no idea what their pension pots are currently worth and 79% say they don't know what income they are expecting when they retire. We will conduct regular financial planning reviews to help you keep on top of things.
Reviews will also be required when any change in circumstances takes place, such as divorce, property purchase or the sale of any assets. Our advisers will make sure that your financial forecast stays compatible with your retirement goals whilst consistently making recommendations to enhance your pot.
For more information on all aspects of retirement planning, contact our specialists at Vintage Wealth Management on 020 8371 3111 or via email at:  info@vintagewealth.co.uk. And don't forget to stay in touch with us on Twitter for all the latest updates in the financial markets.